Tasting/Blending Party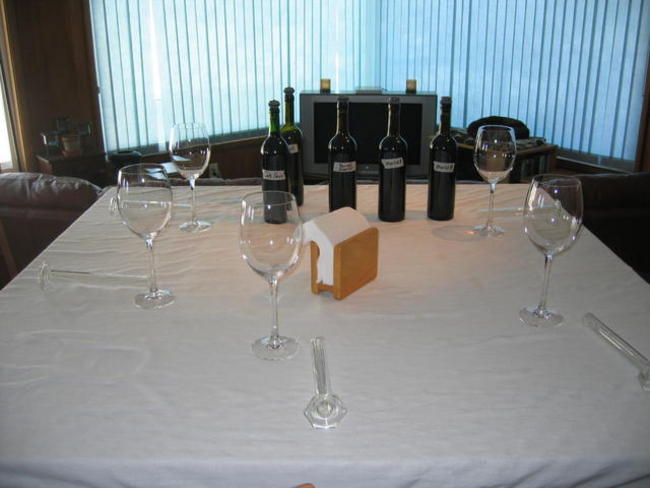 I had some friends over last night to taste the cabernet sauvignon and 3 merlots made from fresh grapes.  We first by tasted each individually, starting with the cab and then the barrel merlot, merlot A, and merlot B.  It was very interesting how much all of the wines have changed even since my last tasting about a month ago.
Cab:  nose of mint;  "smells cabby"; very clear, nice ruby-raspberry color; good tannins, good oak;  not too young;  "nice fresh fruit taste on first sip";  definitely alcoholic;  bitter note on finish.  On second tasting, after snacking on some homemade cheese and sausage my friend brought over, the cab seemed fruitier than the initial tasting.  This wine was full of tannins – everyone's teeth and tongue turned blackish purple immediately!
Barrel merlot:  nose of tobacco leaf and leather; sweet compared to cab;  cola taste;  no tartness; acetone GONE!!!; very mellow, well melded;  not as tannic as cab
Merlot A:  maple or fruit syrup on the nose; also sweet; not as acidic at all, but more acid than barrel merlot;  smells like BBQ sauce;  condensed sweetness;  smells like port.  When tasted again after having sausage and cheese, tasted very toasty.
Merlot B:  really sweet nose and taste; more fruit in nose; less condensed, fresher;  more spice, more fruit than merlot A.
Things quickly degenerated into chaos as we started playing with blends.  I tried to keep up  — after already drinking a lot of wine – to write down all the combos and notes.  I also opened a bottle of a kit cab-merlot to see how it blended with the grape wines.  We tested about 14 combinations, and came to the conclusion that everyone seemed to like the cab the most.  Both of the barrel wines (cab and merlot) were great alone, but cab with a little of any of the merlots seemed to be an improvement.
It was a lot of fun, and definitely a big mess.  Now I have a lot to consider before I can get this wine bottled.