"Barrel" Tasting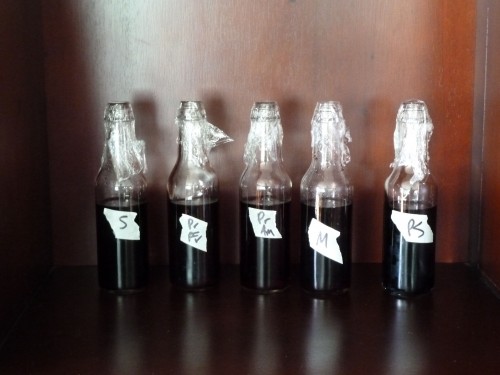 My in-laws are visiting from Germany, and that seemed like a good reason to check the progress of all of the vintage 2009 wines in the shower.  I pulled 100 mL samples from various carboys for a taste.
We started with the Fallbrook syrah. This wine already has great aromas with big fruit and good spice. The wine is very clear and a nice dark garnet in color. Very fruit-forward on the palate with good oak, fruit, and spice balance. This wine turned out to be our favorite for the night, too bad it's the smallest lot of wine for 2009.
Next we sampled the primitivo from Amador county. I put both American and French oak in this wine but have kept them separate to see how they each impact the final product. We started with the French oak sample. The wine had great cherry fruit aromas and great color. Good acidity, very dry with good tannins and fruit. In comparison, the wine with American oak had more caramel flavors and was slightly sweeter tasting. Both were great, but my father-in-law said I should keep the American-oaked primitivo separate to bottle on its own. A quick 50/50 blend of the two oaks was also very nice, so it will be tough to decide how to divvy this wine up; I am also planning to make a Paraduxx-like blend with merlot and cabernet sauvignon.
We moved on to the merlot from Lambert Bridge vineyard in Sonoma county. It is a little different from the 2008 vintage, although that year the merlot did not finish MLF. The 2009 vintage has aromas of bell pepper with vanilla, and flavors of dark fruit with good spice. Big tannins and good acid in this wine as well. This sample was just from the "overflow" carboy, though, which got French oak added to it. The rest of that merlot is in our American oak barrel that needed extra oak added, so that might taste a little different.
Finally we tasted the petite sirah (again, just the "overflow" carboy). Aromas on this wine were faint, and a little "off". The wine is a deep, inky black-purple in color, but very clear. Happily there were no weird off flavors, the wine has good tannins but not as much acid as I expected. It has a very green, young flavor, with bell pepper, black currant, and light spice. But, there's plenty of time for the petite sirah and merlot to develop more, as we all decided at our last tasting to leave both of these in the barrels for another year.
Even though we only had 5 samples of wine, they were all very "big" and quite alcoholic.  So, we wound down the evening with a nice, refreshing parmesan flan with fresh home-grown heirloom tomatoes and basil on top.