Comparing Two Merlots: Same Grapes, Different Yeasts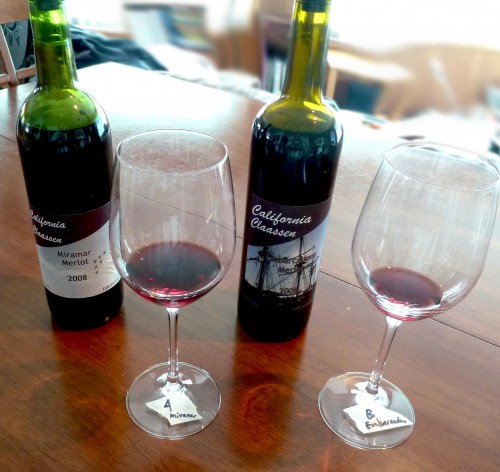 I realized I haven't really done a head-to-head tasting of my 2008 Merlot lots A and B yet. After being so disappointed with the barrel batch of merlot from that vintage, I've been holding out to wait 2 years to pop the smaller batch of lot A. Happily, the time has come!
Tasting notes:
Merlot lot "A", first tasting (2 years in the bottle), comparing directly to Merlot lot "B" from same vintage. This lot A (RC212 yeast, fast ferment; blended with some Cabernet Sauvignon) is a little more cherry red than lot B (Pasteur Red yeast, slower ferment; 100% merlot), which is more garnet in color. First tasted without aeration. Cedar and spice box on the nose with blackberries and brambles. Lots of pronounced oak, very hot, but good fruit flavors up front followed with lingering spice in long finish. A little more fruit on the nose in lot B, also more fruit and less spice and oak in lot B, smoother and more balanced; still quite hot.
With aeration fruit aromas much more pronounced in both wines. Flavors smoother in lot A but still hot; lot B became sweeter and more mellow.
Overall, I prefer lot B when tasted side-by-side, though both wines are very nice. However, I do wish I had watered back both musts to 25 or even 24 brix prior to fermentation, they are both so alcoholic it throws them out of balance. This is how we learn!