Preharvest Live Oak Vineyard Visit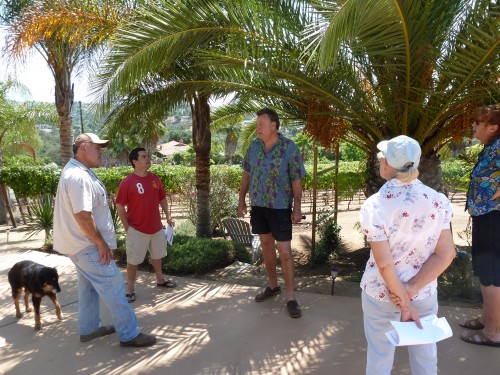 Today I took a group of people in my Hands-on Winemaking class at Curds and Wine up to Fallbrook for a preharvest Vineyard Visit. We picked a perfect day (read as sarcasm), as a heat wave recently hit and it was sweltering. But, it's always a lovely, if not hot, day at the vineyard.
Mike Hoffman, a fellow gold-medal-winning winemaker, gave an overview of his vineyard then we took a walk through the vines to check out the status of our soon-to-be-wine grapes. We pulled a few random grapes from various points and checked out the brix readings on refractometers.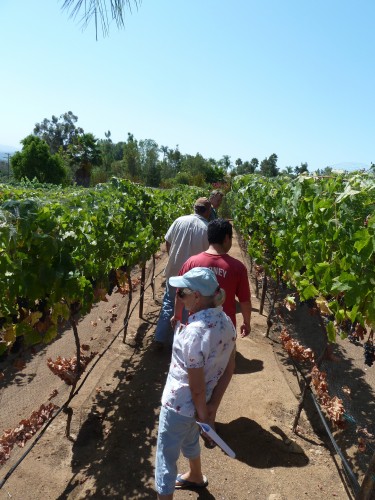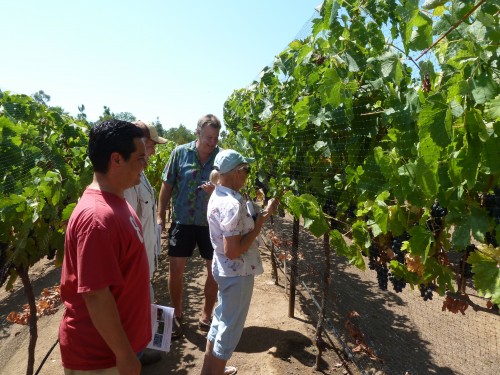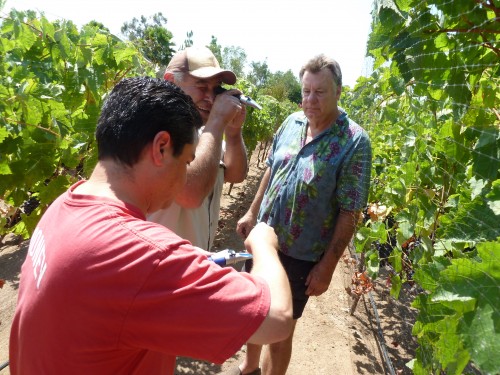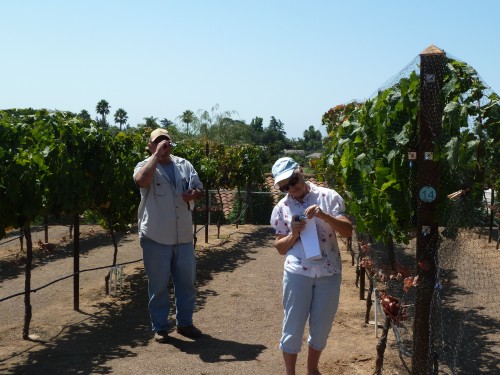 Besides checking the sugar levels with the refractometers, we looked for the physical signs of ripening:  the grapes pulling away cleanly from the pedicel, the seeds turning brown and getting cruchy, and shriveling or puckering of the grapes.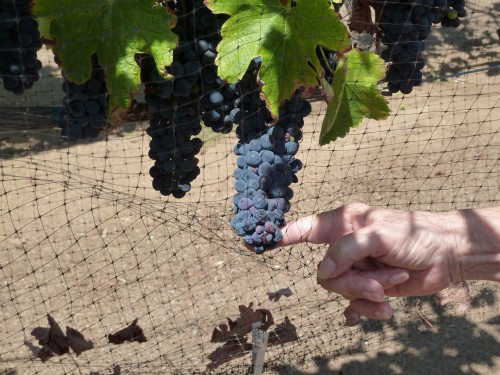 We then headed back to the shade to taste the 2009 vintage syrah and do some lab chemistry on a pool of random samples of the grapes from each block of the vineyard, 'Este' the lower vineyard, and 'Cima Sur' the upper vineyard.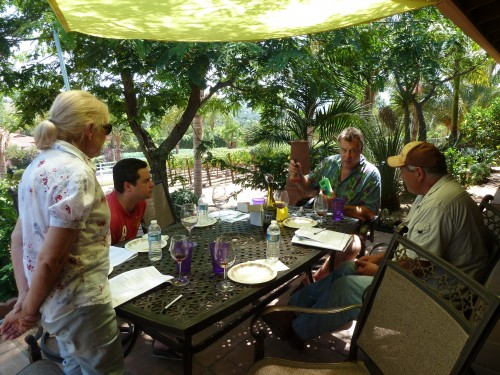 After Mike demonstrated the proper technique for mashing up the samples, he strained out the juice from the pooled grapes to test the brix with the refractometer, pH with his pH meter, and TA with Accuvin quick tests.  The readings were as follows:
'Este': brix = 21.5, pH = 3.17, TA = 10
'Cima Sur': brix = 23, pH = 3.27, TA = 9
The numbers are very close to optimal; we are targeting a harvest at 24-25 brix, ph 3.5, TA 7-8.  Mike originally thought harvest would fall on September 11th, but it looks like we'll be harvesting next weekend!  Time to get everything ready for the syrah crush!