Barrel Wines Bottling Day!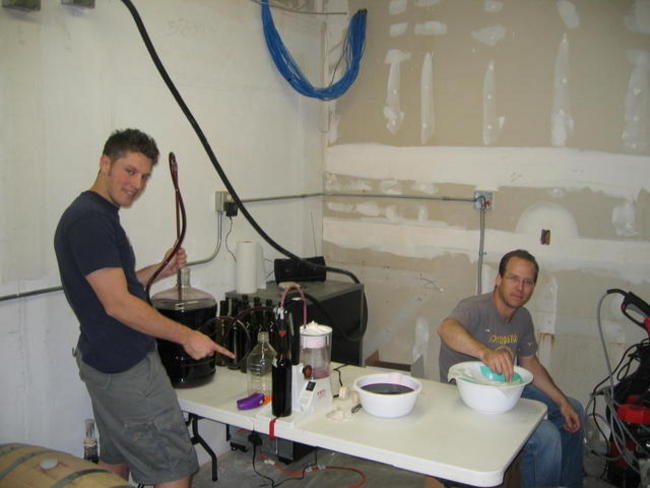 We've been trying to get organized to bottle this wine for a while now, and we finally set a day and got it done.  I brought my portion of the wine home in carboys and a few miscellaneous bottles.  Dave and Josh wanted theirs bottled, so that's what we did.  Dave did a few blending trials with the cabernet sauvignon and merlot, and decided to bottle a 50/50 blend as well as 100% of each varietal.  We cleaned out one of the primary fermentor trash cans to mix the blend in.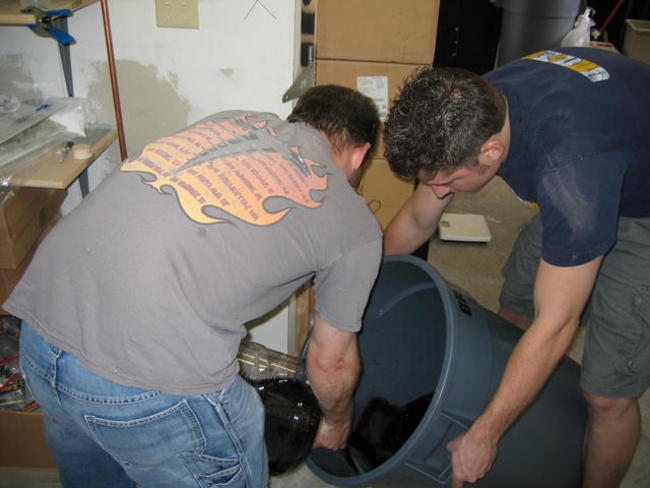 We would be bottling all of the cabernet, so I took my portions from the top and bottom of the barrel, since we knew there would be a lot of muck in the bottom.  We bottled Dave's 100% cab sauv straight from the barrel, the enolmatic bottling pump was a champ!  We took out portions of the merlot from the top, but did not bottle the entire barrel.  Instead, we put all of the unoaked merlot that was in various containers (steel keg, better bottle) back into the barrel to get some oakiness into it.  It didn't really take us tooooo long, most of the time was spent cleaning up, especially washing out the empty cabernet barrel and setting it up for storage until next harvest.
It tasted good, though – the cab is still very fruit-forward, with nose of oak, spice, and dark fruits.  The merlot was surprisingly fruity as well, with flavors of toasted oak, blackberry, and spice.  Both are quite yummy!