More Weekend Wining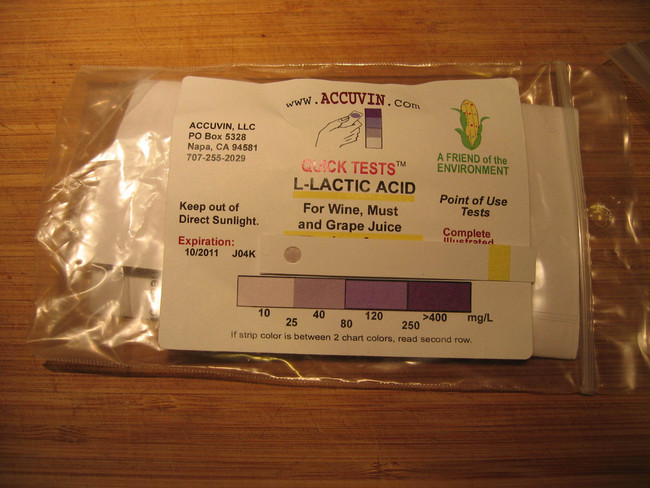 With four different varietals in various stages of progress, as well as the last of the 2008 merlot to bottle, every weekend is going to be quite busy for a few more weeks.  Since I was out of malic acid tests last weekend when the primitivo was racked, sulfited, and oaked, I took a sample out to make sure it was done with MLF, and happily the results showed that malic acid was not detectable.  Then I moved on to test the syrah, which did not start MLF with the VP41, further proving how sensitive malolactic bacteria are.  Last weekend I inoculated the syrah with some fresh ELIOS MLB in addition to a sample of merlot undergoing active MLF, and it looks like that did the trick — the chromatograpy test shows about 40 mg/L lactic acid, positive for active MLF!
Next I needed to deal with the 2008 merlot, which I plan to bottle next weekend.  Since it did not successfully finish MLF last year, I treated it with lysozyme to make sure there were not little bugs hangin' around to start fermenting in the bottle some time in the future.  I also added another dose of K-meta to make sure it was properly sulfited for long-term aging.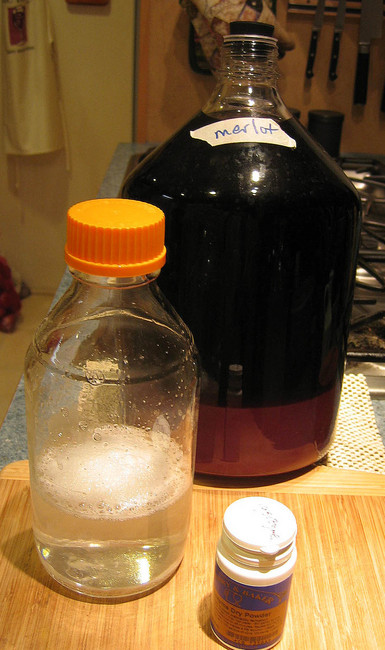 Once all that was done, it was time to head over to the office winery to check on the 2009 merlot MLF and press out the petite sirah.  The lactic acid test on the merlot did show that MLF was also progressing, hooray!  The PS was at about 0.5 degrees brix, so fermentation was not complete, but close enough — we needed to do this on a weekend.  Dave will take care of racking off of the gross lees and start MLF during the week.  Finally, done for today!