Oak Trials Experiment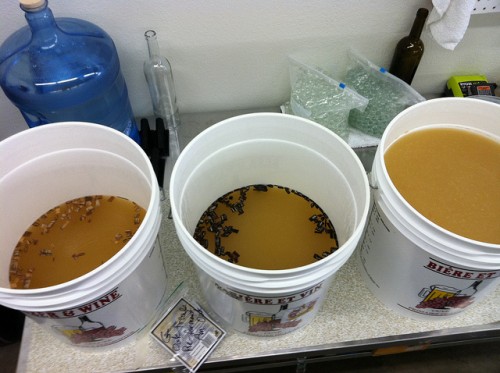 I was inspired by Tim Vandergrift's Hands-On oak trials at the Winemaker Magazine Conference in Santa Barbara to set up my own set of oak trials.  I decided to just get a basic chardonnay kit, the Winexpert Vintners' Reserve Chardonnay.  This kit does come with a small pack of oak, but I pulled it out.  My set up is as follows:
#1: unoaked control
#2: prefermentation American oak 10 g/gallon
#3: prefermentation French oak 10 g/gallon
#4: post fermentation American oak 5 g/gallon
#5: post fermentation French oak 5 g/gallon
#6: post fermentation American oak 10 g/gallon
#7: post fermentation French oak 10 g/gallon
I'll be using my own oak chips for the experiment; one variable I'm not happy about is that my French oak is a medium toast, but the American oak is untoasted.  I set up 2 wine kits, one I made as one batch and left out any oak, to be split up into 6-one gallon batches for post-oaking later.  The second kit I made up and split to 2-3 gallon batches before sprinkling on the yeast, which I split over the 2 split batches.  I didn't want a ton of oak trial wine, so that's why I decided to split it up this way.
I racked the wines out of primary fermentation today at day 6, the specific gravity is already at 0.994 for all batches.  I will stabilize and clear the unoaked batch as one batch, then rack out to individual 1-gallon batches about a week after that to make things a little easier.  I'm planning to leave the chips in for 4 weeks, then bottling all of the wines.  I have been debating how long the post-oak should stay in for this trial, but from my past experience 4 weeks seems to be a reasonable amount of time;  however, then it is a longer time than the preoak, which is inevitable anyway.  Not a perfectly controlled experiment, but it should yield results as interesting as Tim's experiment.  They should all have at least a month before I open any for taste testing.