Second Fermentation on 2011 Syrah
After our pressing class last night, the wine has settled out.  Now it's time to pump off the cleared wine and start secondary fermentation: malolactic fermentation.  This process sometimes happens naturally, but it's always safer to inoculate with fresh malolactic bacteria to be sure you know what is working on your wine — it could turn out to be something bad that makes your wine taste like sour milk or horse sweat!
Thinking about the disaster involved with using my new must pump with the cleared primitivo in 2009, plus having lots of little batches, we opted to use the Buon Vino minijet filter pump, and bypass the filter unit to use it just as a pump.  It's definitely slower than the must pump, but for these sized batches, that was kind of a good thing.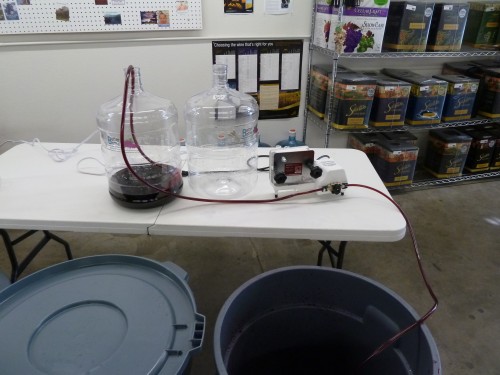 Since you never know exactly how much you're going to get, we pumped everything to 6-gallon carboys first, then juggled them around into carboys that fit the volume as closely as possible.  We do want to top up the carboys to the necks now to minimize air contact, but want to leave just a little extra room so we can stir it up with a spoon every week during MLF.
After a few hours everything was ready to start MLF.  First I tested the free SO2 levels, just to be sure the yeast had not created too much during fermentation to inhibit MLB activity.  A quick run with the SC-100 showed levels were below 10 ppm.  So we then rehydrated VP41 MLB in one jar, and Opti-Malo Plus nutrients in another jar.  After 15 minutes, the appropriate amount of solution was added to each carboy, then stirred gently.
Overall we now have 9 gallons of batch #1, 6 gallons of free run and 5 gallons of press run for batch #2, 11 gallons of batch #3 (our favorite), and 9 gallons of batch #4.  Now it's waiting time, we'll stir the wine every week and in about 2 weeks we'll test for the appearance of lactic acid.  Hopefully it will be positive, indicating that MLF is off and running!