Syrah Goes for a Ride
Paul and I are not happy with the way the 2010 Syrah is tasting.  It has been hanging out in the Flextank for about a year now, with oak cubes, but it just tastes kind of closed up.  Supposedly the Flextank "breathes" like a barrel, but right now I'm not buying that.  We both agreed that we should move the syrah to one of the empty neutral barrels I have at the shop.  So, hubby and I headed up to Fallbrook.  Since we were in the 'hood, Mike and Tricia stopped by to lend a hand.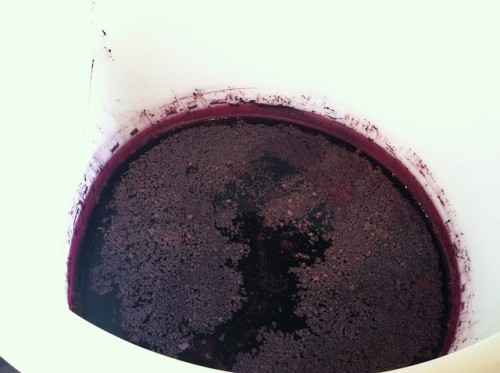 When I first opened up the flextank, there was a very nasty layer of white film on top again.  I've seen this too many times before, but it has always just been an innocuous pectin haze.  The wine overall smells OK, though it has a slight acetylaldehyde whiff at first.  This odor does go away with a little time in a glass, so hopefully will blow off with all of the transferring it will go through today.
We pumped the wine out into several carboys and loaded them into the car with the empty flextank.  Then the syrah got to go for a ride down to the shop, where it was pumped back into one of the empty, neutral American oak barrels.  We also filled another whole 6-gallon Better Bottle and partially filled a 5-gallon carboy.  It's been a long day, so I pitched about a teaspoon of Kmeta into the barrel and 1/4 tsp into each carboy.  I'll check the free SO2 later and add some oak cubes, it definitely needs it!