Blending Trials for Three Pelicans Blend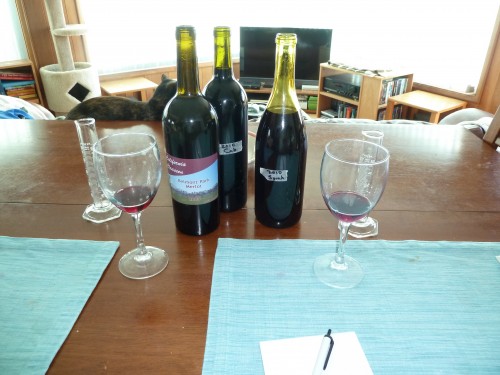 I've been planning to make a blend similar to Duckhorn's "Paraduxx" for a while; their blend is a combination of Zinfandel, Cabernet Sauvignon, and Merlot.  I was planning to substitute my 2009 Primitivo for the zinfandel, but in a previous blending trial the primitivo just overwhelmed all of the other varietals and any blend was completely out of balance.  However, we had a bottle of syrah open and that worked quite well with the cabernet sauvignon and merlot.  So, my hubby and I gave that combination a fresh try, as I'm ready to get this blend in a bottle.
We tried a few combinations with various percentages of each.  On their own, the 2010 Syrah was a bit acidic and has a slight acetone note; this needs to be remedied regardless of the final blend!  The 2009 Merlot has a good oak note with ripe red fruits on the tongue.  The 2010 Cabernet Sauvignon is from a friend, this wine has menthol aromas with hint of mint on the tongue, and is somewhat sweet tasting.
The first blend was ~50% syrah, 25% merlot and 25% cabernet, and tasted not unlike a cherry cough drop.  Next we tried a 1:1:1 blend of the 3; this blend had good balance, though the acetone notes from the syrah were distracting.  We then put together a blend of 25% syrah, 50% merlot , and 25% cabernet.  This blend was pretty good, the fruit and spice from the syrah and cabernet gave the merlot a nice balance and rounded out the mid-palate, good oak and acidity balance.  Finally, we tested 25% syrah, 25% merlot, and 50% cabernet sauvignon.  This blend was very fruit-forward, but the acidity was out of balance.
To make the final cut we tasted the 1:1:1 blend against the 50% merlot blend.  In the end, the even blend had the best balance, though the 50% merlot was good.  Now I just need to fix the acetone problem once and for all in the 2010 syrah and find time to put the blend in the bottle!