Unhappy Cabernet Sauvignon
At the bottling party, I was talking with Paul about getting some of his Cabernet Sauvignon (also from Lambert Bridge Vineyard in Sonoma) to make a Paraduxx-like blend with my merlot and primitivo.  He mentioned he had several gallons of cabernet that seemed to have a VA problem.  I hate to dump wine without trying to save it.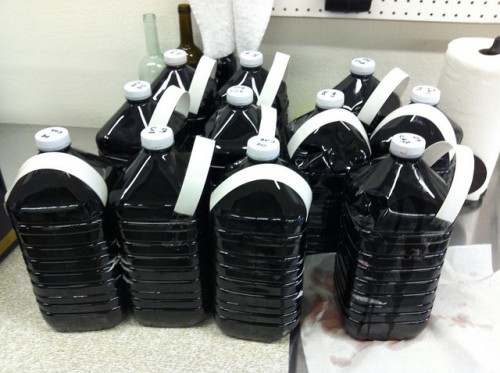 There were about 13 liter water bottles full of the flawed wine.  I splash-poured them into two 5-gallon Better Bottles and checked the free SO2 levels with my handy Vinmetrica SC-100.  Paul confirmed what the SC-100 told me, this wine had NO sulfite in it.  So, I dosed it up with some Kmeta, which sometimes will help get rid of flaws like acetylaldehyde, which seemed to be the main problem.  I'll let it sit for a while then recheck the free SO2 levels and give it a smell and taste.