Finally Bottling Primitivo
I have a few wines that are due for bottling, but I was waiting until I opened my shop because I needed corks, and it seemed to make sense that I should buy them from myself.  So today I'm finally bottling my Amador county primitivo.  I'll bottle most of it as 100% varietal, but I'm saving 5 gallons to make a Paraduxx-like blend with merlot and cabernet sauvignon.
One thing I forgot was how much preparation it takes before the actual bottling process.  I do my winemaking in the kitchen, which means cleaning up the surfaces before starting anything.  That's one benefit to having a dedicated space for bottling, or making your wine at a home winemakers' center like Curds and Wine, where the proprietor prepares everything and cleans up for you (a little shameless self-promotion).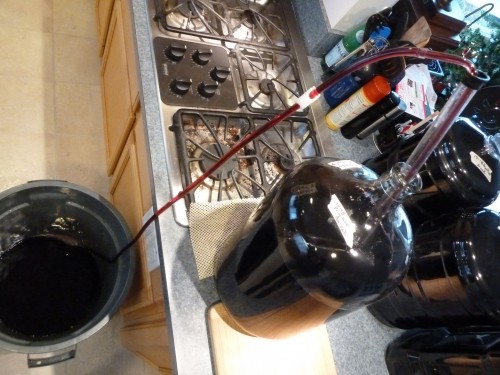 I racked the 4 carboys together into a 30-gallon "primary fermentor," AKA food-grade plastic trash can.  It then took about 20 minutes to fill all of the bottles, another 10 minutes to put on shrink capsules with a thermocapsuler, and 10 minutes to slap on labels and put the bottles into boxes.  The final count was 76 filled bottles and one partial bottle.  We had the partial bottle with dinner.  Although it is young and freshly bottled, it is showing great promise.  The wine was very clear, probably due to a year bulk aging.  Light aromas of black currant and blackberries with hint of black cherry.  Good oak, though definitely needs some time to settle in with the chewy, dusty flavors of dark ripe fruit and tea with smoky finish.  The wine is definitely quite closed right now, but hopefully in just a few months it will open up and be ready for late summer cookouts.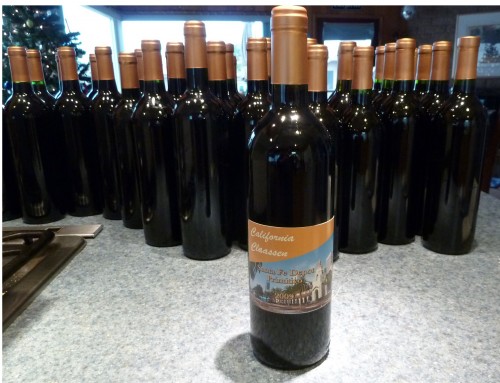 In my excitement to get the wine bottled, I completely forgot to test the free SO2 or add an extra dose of Kmeta before bottling.  I guess this will be a test wine to show how important proper SO2 levels are for aging — worse case, we'll have to drink it all sooner than later!
Our 2010 Fallbrook syrah is hanging out in the flextank, which did pop out into a perfect sealed cylinder once the wine was pumped in.  Paul came by to get a pound of "house toast" French oak to toss in, we'll taste it in a few months to see what we think.
He also brought a sample of wine for me to test free SO, so I checked that as well as the merlot and petite sirah in the barrels.  I used my new favorite toy, the SC-100 analyzer from Vinmetrica (which I happen to carry at Curds and Wine).  This instrument is so easy and fast, I love it!  It turned out everything needed a dose of metabisulfite, which didn't really surprise me. The merlot and petite sirah also need more oak, Dave and Josh will visit soon to taste and discuss oak options.  I'm considering a mix of American and Hungarian oak, any suggestions are welcomed!